Digimasol Ecommerce website development Company which helps you to introduce your business worldwide and sell products easily in a hassle free manner. By going online, you can easily grab different business opportunities and also you can add to the overall growth of your business.
Digimasol provides Ecommerce Websites solutions. We develop Ecommerce website design for different clients of different nature of business. Our e-commerce development services include shopping cart, payment gateway, advanced product search functions, item pricing and product details. Our skilled team of Ecommerce web developers creates Ecommerce sites that are safe, secure and easy to manage and each Ecommerce site is customized according to the nature of business and unique functionalities.
It is crucial for you to have an online shopping website that looks very  attractive, offers your customers with easy payment options as well as takes care of security concerns. We have the experience and skill to develop customized shopping carts keeping in mind all the above factors that puts your online store at the forefront. Digimasol affordable Ecommerce website design and development solutions are aimed towards pleasing your customers in every possible way which leads to more conversion for your business.
Our website development company creates Ecommerce websites keeping in mind users demands of surfing on a smooth hassle free website. Not only that, our Ecommerce website design company ensures creation of easy payment gateway and user registration and login making it a great online shopping portal as we incorporate with payment gateways such like PayPal,Pro, Authorize, Google Checkout, etc. Being a Ecommerce website development firm we ensure safe and trouble free website for the owners and its users so that every visit and transaction is kept under track. The cost and packages for Ecommerce web development are quite cheap and affordable than the current market rate. Digimasol is highly dedicated to its service of e commerce site development.
Ecommerce websites developed by us as the perfect selling tool for your business.
Low operational cost as compared to a brick and mortar store
Full control with our Ecommerce content management system
Multiple languages
Well categorized backend management
Availability of different payment gateways
Payment Gateway
Start accepting payment online via your online Ecommerce store using our payment gateway solutions. Digimasol offers a wide range of payment gateway solutions for Indian as well as for International credit card processing, Indian Bank Transfer solutions, Paypal accounts integration to the websites etc. to help your customers transact with ease.
Payment Gateway Features
All major international and Indian credit cards processed.
Your customers pay in your currency.
No merchant or special bank account necessary.
Quick & Easy integration to the website.
VeriSign 128 bit Security.
Authorize & Capture facility available.
Pricing options comparative analysis.
E-mail accounts mailing lists.
We provide 24 hrs email support
An Ecommerce website design and development surely requires a lot of innovativeness  and creativity  to make it stand out among the competitors. Ecommerce website design and development is the online store design that can drive customers them away from the store. It is very important to make a strong impression first time with an Ecommerce website design and development that appeals to the best possible extent.
To bulid a successful website requires proper understanding of the needs of the client so as to make the right decisions for an Ecommerce website design and development. As a highly reputed Ecommerce website design and development company, we make it a point to research your online business, target audience as well as competitive market so as to offer you with the best Ecommerce website development service. You can easily offer your customers with a convenient shopping experience by setting up providing different payment methods, product categories,  letting them zoom in on particular products and much more. Whether it is adding product images, shipping and billing, Ecommerce stores developed by us are extremely easy to setup, increasing the chances of providing your customers with positive shopping experiences.
Whether you require a website built from the scratch or some tweaks in your existing Ecommerce site, our Ecommerce website designers can take care of everything with ease and efficiency. It is very important to have a strong Ecommerce platform that acts as the foundation for your online business. Digimasol utilize the most advanced technologies to provide your business with the right exposure and increase your profitability.
Give your business a massive head-start by taking advantage of the knowledge and skills we have gained in building number of successful online solutions utilizing our Ecommerce experience. We are well equipped with state of the art technology, methodologies and industry knowledge  for handling the most complex of technologies in a pushover manner.
Similar to a brick & mortar store where everything needs to be in perfect order starting from the positioning of the products to the overall decor, your online store needs an exquisite design to attract the audience. Some features of the Ecommerce websites developed by our professionals include:
Custom functionality
Secure shopping cart
Easy management of inventory and content
Tablet and mobile optimization
Simple and convenient order tracking
Various shipping methods
Social media integration
Filtered product search
Implementation of different payment gateways like PayPal, SecurePay, Authorize.net, etc.
Options to add coupon codes, redeemed points and more
With vast experience in Ecommerce website development, we cater to a huge client base all over the world. We are well aware of the fact that you have unique needs and we offer you with top notch custom Ecommerce website design services to guide your online business in the right direction. Our professionals specialize in different Ecommerce platforms which include:
Magento
Magento is a highly popular Ecommerce  platform which is preferred by numerous brands all over the world. With plenty of experience in Magento web development, our professionals assure to provide your business with a feature rich online store consisting of features like full analytics and reporting, intuitive administration interface, secure payment gateways and more, which will provide your customers with a satisfying online shopping experience.
OpenCart
Digimasol has plenty of experience in OpenCart technology. Our professional developers can easily create any extensions or features for your Ecommerce site that will allow you to sell services or products with ease and convenience.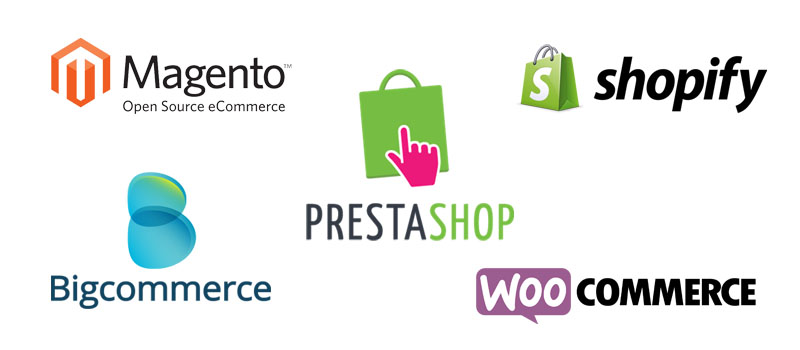 PrestaShop
The tons of features available with Prestashop along with powerful backend administration panel, templates, etc are perfectly utilized by our expert developers to offer you with an amazing shopping cart that increases your ROI and sales.